Tesco Logs - 5 reasons to buy with logsnearme.co.uk instead.
"Tesco logs?" I hear you say. Over 90,000 people are searching for Tesco logs EVERY MONTH! Incredible! We thought we'd take a look at the firewood products that supermarket giant Tesco are offering to see what all the fuss is about.
Let's begin! Tesco offer 4 firewood products, the range includes a 10kg bag of smokeless fuel, a small 16 litre bag of kiln dried logs, heat logs and kindling. So all in all a pretty small range of products but it covers the basics of what people essentially need if they're in a rush and wanting to make a fire that very evening.
We are specialists in premium Kiln Dried Firewood. This is wood that has been responsibly sourced and baked in a kiln at 90 degrees for 5 days to reduce the moisture content to below 18%. So, since this is what we do best, let's see how our kiln dried log products line up against Tesco's kiln dried logs.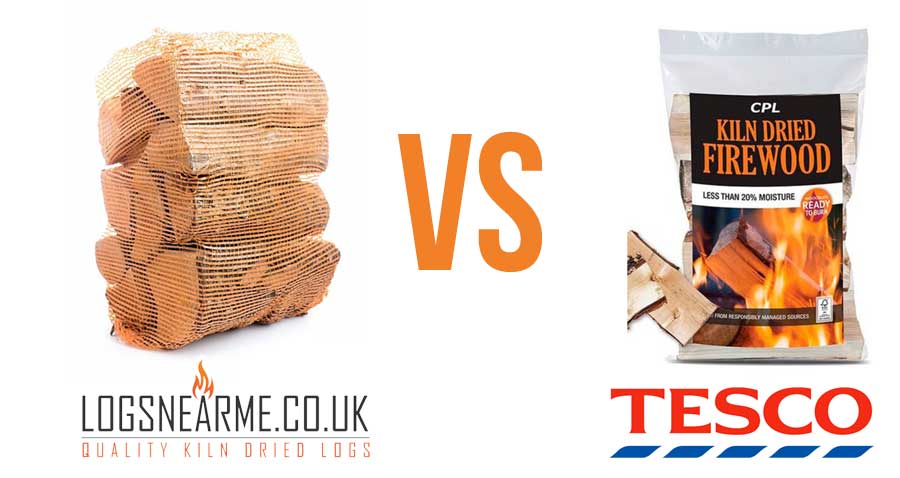 Tesco Logs - 5 reasons to buy with logsnearme.co.uk instead.
1. We're way better value.
Tesco logs can be bought in bulk, but, you won't make any savings by buying dozens of bags from them.
Their 16 litre net costs £5.00 which works out at £0.31p a litre. When you buy 24 nets from us we're giving you 30 litre nets (not a puny 16l) at an astronomically low price of 0.18p a litre. That's almost HALF THE PRICE!
Our 24 nets of birch logs cost just £134.95 and could last you an entire winter, depending on how regularly you burn. If you were to buy 720 litres worth of logs from Tesco, you'd need to buy 45 bags at a cost of £225.00!
So, if you burn your fire once or twice a week throughout winter, we've got this advice for you... stop buying your logs from supermarkets or petrol stations!
2. We sell premium firewoods Birch, Ash and Oak - Tesco probably don't...
Tesco don't specify on their website what species of wood they're selling. One can only speculate, but the likelihood is it's a cheaper wood such as Alder which burns way quicker without offering the same heat value as birch, ash and oak. This means that as well as paying more per litre, you could be burning through the stuff way quicker too.
3. Customers rate us 'excellent' and Tesco firewood 'average'
At the time of writing this blog post, we went on the Tesco website to view their firewood products and see what Tesco customers had to say. This was the first review we saw...
Do not buy this wood! 1 STARTS
A Tesco Customer2nd October 2020
"We've bought this wood pretty much every week. Up until a few week sago it was acceptable however recently the logs have been mouldy and soaking wet. We physically haven't been able to light the fire with this wood! Absolutely DO NOT buy. It's obviously down to the way that Tesco are storing it"
Tesco only have 5 reviews on their website and they vary from 1 star to 5 stars, averaging out at 3 stars. A couple of reviews have claimed that the logs have been damp and mouldy, which they really shouldn't be if they've been properly Kiln Dried.
At the time of writing this blog post, logsnearme.co.uk had 46 reviews at an average score of 4.6/5, this rates us at 'excellent'! Tesco 3* reviews are submitted within their own website, however, to give you a comparable idea, Trustpilot's 3* equivalent rating is 'average'.
4. Support Small British Businesses
Business can be brutal, particularly in the tough times of the Coronavirus pandemic. In our experience, whatever industry or market we're personally looking to buy from, whether it be household products, foods, services etc. we've found that small specialised family businesses excel at what they do.
We're a family business and because we're so passionate at providing outstanding kiln dried logs to our customers, we have close relationships with our suppliers that share our passion and standards to provide the best of the best!
5. Exclusive Offers, Promotions & Knowledge
We value the loyalty of our customers which is why we regularly send customers who 'opt in' useful blog posts and offers that allow them to make the most of their fires and logs burners through winter.
Check some of our posts below:
1. 'The top 5 woods to burn this winter'
2. 'How to start a fire in a log burner'
3. 'Why you should use your wood burner instead of gas and electric this winter.'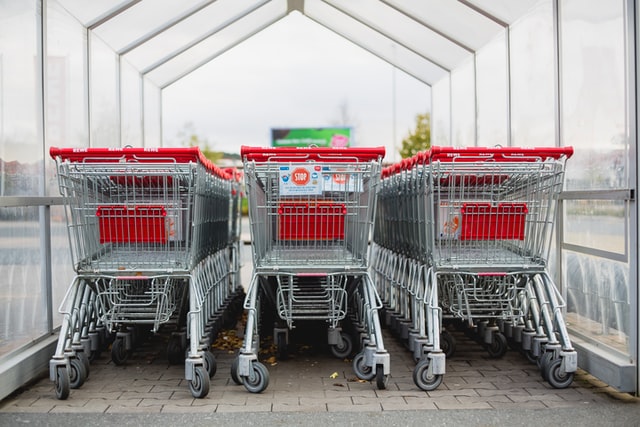 Ready to Buy Better Logs?
Hopefully this has helped you make an informed decision before you make your next purchase of logs. Like we said earlier, if you're burning through bags and bags of logs each winter, why not try and buy in bulk?
Say 'goodbye' to lugging bags of logs into your trolley each time you shop and 'hello' to premium dry logs delivered to your door with change to put towards your next Tesco sticky toffee pudding!